Become a Member
The Wolf Sanctuary of PA is a 501(c)(3) non-profit organization. We maintain the well-being of the Wolves only through your generous support. All of those working to secure the safety and health of our Wolves are volunteers.
Your membership amount, contributions, donations, and services are fully tax-deductible.
Adopt a Wolf!! Adopt a Wolf from Wolf Sanctuary of PA and make a difference for our wolves and their environment.
Your Adopt a Wolf Kit includes:
* Photo of Your Adopted Wolf
* Adopt a Wolf Adoption Certificate
* Fact Sheet About Your Adopted Wolf
* Wolf Information sheet packed with information on wolf communication and wolf facts
Adopt a Wolf Kits make great gifts and can be sent directly to the recipient. Simply supply the recipient's name and mailing address as shipping information, along with your check for $45. We'll even include a letter stating the Adopt a Wolf is from you.
Donation for Wolf Sanctuary of PA's Adopt a Wolf symbolic adoption is $45 and helps the Sanctuary to preserve grounds and protect its animals. Adopt a Wolf for yourself or order an Adopt a Wolf as a gift. Help make a difference for animals – Adopt a Wolf Today!
How do I do this? Well, just write us a letter along with a check in the amount of $45 per adoption. Your letter should tell us which wolf you want to adopt (see our family page for names), the adoptive parent's name and where we should mail the adoption. If we are to mail it directly to the recipient be sure to tell us if you want a special note to be enclosed.
*Please allow 4 weeks for delivery.
Gift Certificates!!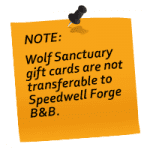 Give the gift of nature and education to friends and family. Add any custom notes or comments to the recipient.
Call, send a check or order online. Sounds Great!
Merchandise
Merchandise is not tax-deductible. We accept personal checks, money orders and credit cards. Make checks payable to: 'Wolf Sanctuary of PA. Personal checks should include driver's license number.
Checks are cleared and merchandise is sent on the next business day.
The AmazonSmile program helps support the Wolf Sanctuary
Use the button below and bookmark the page. A portion of your purchase through the AmazonSmile will go to help support the Sanctuary
Thank you for your continued support