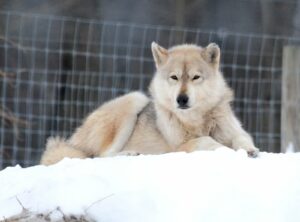 Words cannot express our grief at the loss of another member of the Speedwell family.   Our sweet and timid Princess passed away Spring 2017 as a result of a rapid onset of cancer, leaving us all too suddenly and too soon.
Princess was with us for just over a year and a half, yet she touched the hearts of all who came to know her here at the sanctuary and quickly became one of Speedwell's very own.
Princess spent the majority of her time here as a member of the Motley Crew.  The other members of her pack, Shawnee, Kuzco, and Little Joe, were considerably younger and with much more energy than she.  Princess always seemed to exhibit more of a steady wisdom, possibly a result of her past before the sanctuary, possibly due to her age, or possibly just due to her own preference of keeping a calm and watchful eye over her pack and her home.  On a cool and clear winter day, she could be glimpsed playing alongside of them, or relaxing with them on their hill once they finally took a break from their activity.  During tours, though, Princess often kept towards the back, peering through the leaves but preferring to remain safely hidden from view.
Princess was often shy and reserved, a true wolf at heart.  Her troubled past made it difficult for her to trust in human companionship and care.  With much time and patience, she eventually learned to trust some of her human caretakers, though always on her own terms.  Her trust was evident through her calm behavior, and though she never developed a social tendency with humans, she was known to brush up against those she trusted in a rather aloof and carefree manner.  This level of calm, more than anything, truly showed how comfortable and happy she was in her forest territory.
Farewell Princess, your calm and peaceful soul will be greatly missed by all at Speedwell and your gentle spirit will not be forgotten.
Born: est. 2010 Rescued: December 24, 2015  Died: May 27, 2017