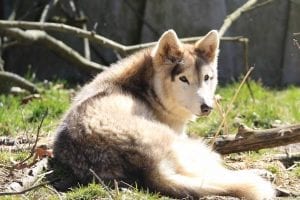 Chipper
Chipper was born here at the sanctuary on November 11, 2001.  He spent some of his happiest times sharing his days with Destiny of Speedwell.  Chipper taught Destiny that there was nothing to fear from their human caretakers and even encouraged her to come closer to the fence during tours.
Even in his final years, he remained young in spirit and appearance, sometimes even fooling guests into thinking he was just a pup!  Because of his youthful, sunny demeanor he will always remain one of Speedwell's most beloved wolves.
Chipper made the tours exciting for everyone, and most of the time, he would begin the howl that so many visitors longed to hear.  His voice would ring out, loud and clear, and all around the sanctuary each wolf would respond until all of their voices could be heard joining in his song.  His spirited voice will never be forgotten.  The first snow of this year will be falling soon and Chipper would have loved to be a part of it but at the same time he will be looking down and perhaps playing in a kind of snow of his own.
---
"To our dear Chipper, you will be missed by all of us in the Sanctuary, wolf and human alike!  We will listen for you voice as the wind passes through the leaves and plays in the fields.  In our hearts we know you are now running free and leaping about as you did when you were very young.  We take comfort in knowing you are safe and back with your family.  We bid a loving farewell and thank you for sharing and being a part of our lives."  
~Barbara Darlington–Director, Wolf Sanctuary of PA
IN MEMORY of CHIPPER of SPEEDWELL
Born: 11-11-01 died 10-24-2015